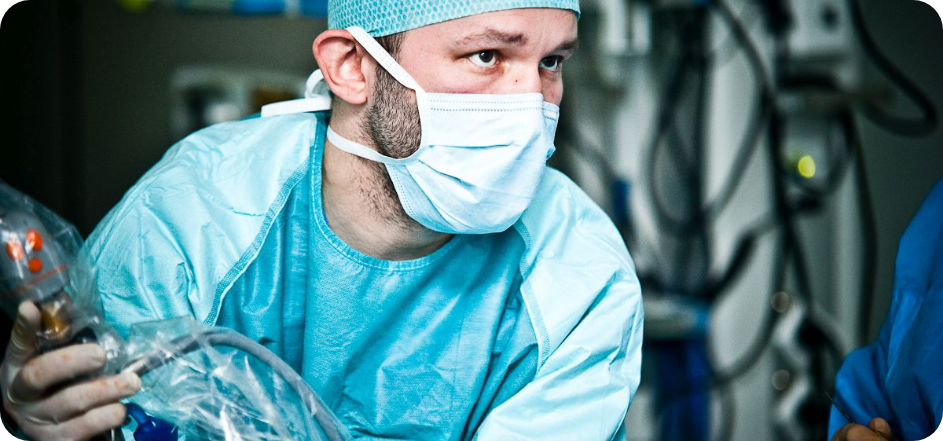 Clinical Department of Orthopaedics and Traumatology of the Musculoskeletal System
Paid services / services under National Health Fund [NFZ] coverage
The Clinical Department of Orthopaedics and Traumatology of the Musculoskeletal System at St. Raphael's Hospital consists of a team of experienced orthopaedists who, using advanced treatment methods, provide patients with care from diagnosis to the treatment of musculoskeletal diseases and injuries.
Our Department offers comprehensive treatment of orthopaedic conditions, including degenerative joint changes, as well as consequences of multiple sports injuries. Our Department also addresses complications following implantation of hip and knee prosthetic implants using the state-of-the-art surgical techniques and revision implants.
The opening of the new Spine Surgery Subdepartment has allowed us to expand the therapeutic options for patients with spinal disorders and injuries. The Oncology and Osteoarticular Pathology Department is also being developed as part of oncology treatment.
Services:
Arthroscopies of all joints (knee joint, shoulder joint, elbow joint, hip joint, ankle joint, wrist joint) – paid services / services under National Health Fund [NFZ] coverage
Total joint replacements (of knee, hip, elbow, shoulder, or ankle joints) – paid services / services under NFZ coverage
Revision surgeries of total knee and hip joint replacements
Reconstructive surgeries of upper and lower limbs: tendons, ligaments, cartilages
Correction of congenital and acquired deformities of limbs: bunions, clubfeet
Advanced surgeries in the field of spine orthopaedics, including congenital deformities, malformations, post-traumatic deformities, scoliosis, spondylolisthesis, and more
Orthopaedic applicances for fractures and injuries of the osteoarticular and muscular system
Minimally invasive microscopic disc surgeries: cervical and lumbar disc herniation
Surgical procedures for degenerative spinal conditions (spinal stenosis, spondylolisthesis)
Spinal implantations (in trauma, cancer, spondyloarthritis, spondylolisthesis, spinal instability)
Spinal canal tumuor surgeries
Peripheral nerve surgeries: carpal tunnel syndrome, ulnar tunnel syndrome
Contact details
Department Head
Medical and nursing team
Our consultants
Our physiotherapists
Łukasz Kamiński, MSc in Physiotherapy
Dorota Mazurkiewicz, MSc in Physiotherapy
Departmental Nurse