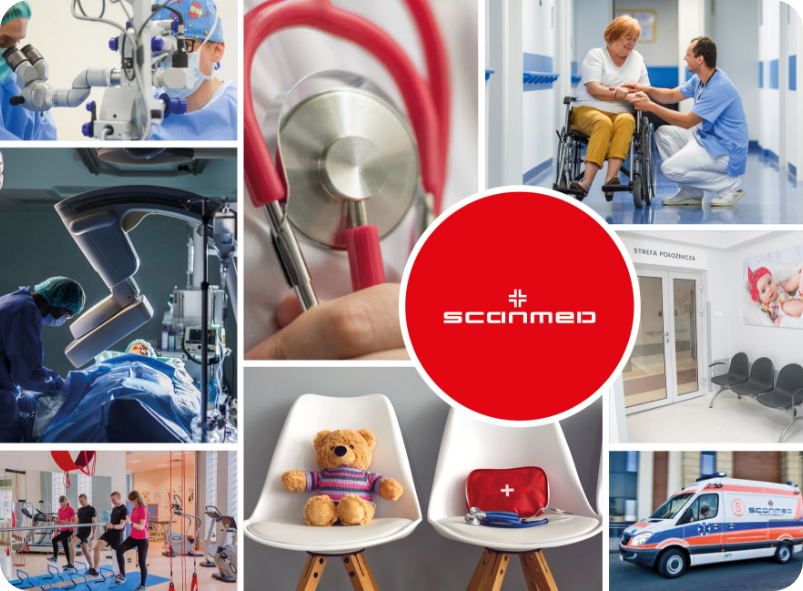 Scanmed Group is a leader among private medical operators in terms of the range of services provided. Scanmed has been providing medical care to patients throughout Poland for years and is constantly expanding the range of services offered. The Group's activities include primary health care, outpatient specialist care and hospital treatment in nearly 40 locations throughout Poland. We provide our patients with access to a wide range of treatment methods and medical equipment, as well as the services of qualified specialists.
We operate three multispecialty hospitals – St. Raphael's Hospital in Kraków, Rudolf Weigl Hospital in Blachownia and Ars Medical in Piła. Their operations are complemented by medical centres located in various cities in Poland, including a special offer for the academic community. We account for a significant share of the cardiology services market throughout Poland – we operate a network of cardiology centres providing comprehensive diagnostics and treatment in conservative cardiology, interventional cardiology and electrophysiology.
Single specialty clinics are also part of the Group: gastroenterology – Gastromed in Lublin, ophthalmology – Weiss Klinik in Chorzów and orthopaedics Sport-Klinika in Żory.
Scanmed units are also accredited for specialisation and residency training. Furthermore, in cooperation with universities, the Group participates in the education of doctors and nursing staff.
Scanmed Group includes:
Scanmed S.A.
Scanmed Sport sp. z o.o.
Scan Development sp. z o.o.
Fundacja Scanmed
More information at: www.scanmed.pl