Commercial Services Department – Comprehensive Patient Care
A team of experienced coordinators will take care of your treatment at our hospital. They will guide you through the entire process, ensuring that your stay at our facility is as comfortable as possible.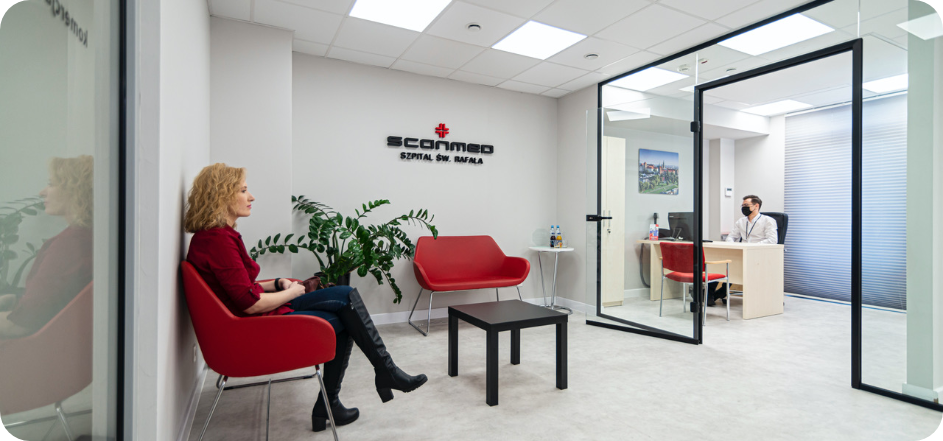 This service is intended for patients:
interested in a commercial procedure, rehabilitation stay
qualified for commercial procedures
undergoing a comprehensive health assessment
Patient Pathway – Step by Step to Full Satisfaction
1. Qualifying appointment:

At the outset, our specialists assess the Patient's health condition and determine the treatment method. They also provide detailed information about the expected treatment outcomes and any potential risks of complications.
The Patient brings with themselves the results of previous examinations and consultations.
 2. Consent to treatment

If the proposed treatment plan aligns with the Patient's expectations, the Patient then confirms their intention for treatment at St. Raphael's Hospital:
by telephone: 880 527 283, 532 348 371
by e-mail: komercja@scanmed.pl
in person: through a meeting with the Hospital Care Coordinator
The Patient receives a complete set of information about the treatment conditions and formalities related to admission to the hospital. They are provided with an estimated cost and the proposed/established procedure date.
 3. Date confirmation

The date of the procedure is adapted to the needs of the Patient. Approximately 7 days before the procedure, the coordinator contacts the Patient confirming the date and time of admission to the hospital.
 4. Admission to St. Raphael's Hospital

The Patient reports to the Commercial Services Department on the appointed day and time, where coordinators guide them through the admission procedure. They register the Patient and take care of all the necessary formalities related to their stay in our facility. Subsequently, the coordinator escorts the patient to the appropriate ward.
Coordinators of the Commercial Services Department: