The Lesser Poland Shoulder Surgery Centre
at St. Raphael's Hospital offers patients comprehensive care for shoulder joint disorders, from conservative treatment through outpatient procedures (e.g. intra-articular injections under ultrasound guidance) to surgical treatment.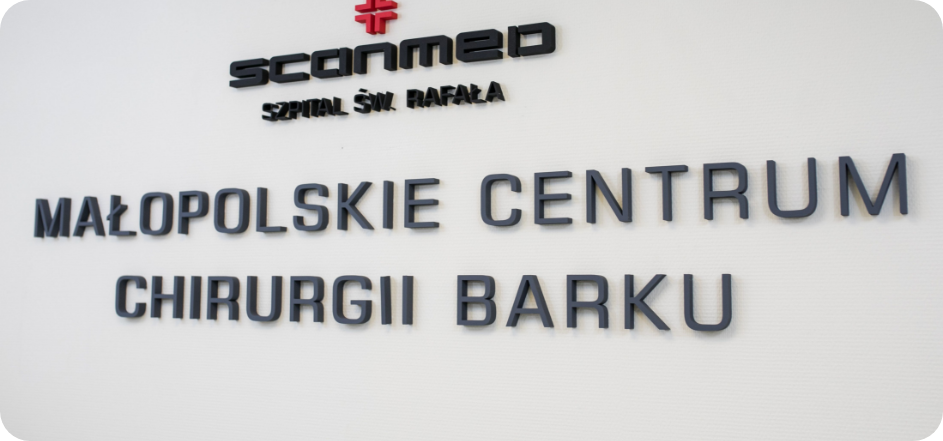 We provide comprehensive diagnostics in terms of consultations and imaging studies (ultrasound, CT and MRI). In the therapeutic process, we employ modern methods of conservative and operative treatment – minimally invasive arthroscopic procedures. Patients are also offered preventive and rehabilitation solutions.
The treatment and care of the Patient are provided by an experienced, multidisciplinary team of orthopaedic specialists. Our physicians have years of clinical experience gained in Polish and international centres of recognised reputation.
The Lesser Poland Shoulder Surgery Centre at St. Raphael's Hospital gathers in one place a qualified team of orthopaedists who are affiliated with medical centers in the Lesser Poland region on a daily basis. Thanks to this, we provide our Patients with access to top-notch specialists near their place of residence.
Instability and degenerative changes of the acromio-clavicular joint (ACJ)
ACJ instability is usually associated with falling off a bicycle or skis, resulting in a tear of the joint and the coracoclavicular ligaments that stabilise the clavicle. Treatment consists of arthroscopic reconstruction accompanied by re-stabilisation of the clavicle. In chronic cases, we conduct reconstructive treatment using not only implants for stabilisation but also the patient's harvested tendons.
Long-developing degenerative changes in this joint often accompany injury to the rotator cuff in the context of subacromial impingement and can be arthroscopically removed while maintaining ACJ stability.
Instability of the shoulder joint
It is most often associated with a past trauma, especially in active individuals. The risk of further dislocations is particularly high in young people.
Treatment involves arthroscopic reconstruction of the damaged labrum and glenohumeral ligaments – Bankart/BLS techniques. In cases of accompanying glenoid damage with bone loss, we expand the procedure to restore the proper shoulder track – through bone reconstructions –the Latarjet, bone block technique.
In Patients with multidirectional instability, without a history of trauma, we run a rehabilitation programme significantly reducing the need for surgical treatment.


Other shoulder disorders
We also effectively treat subacromial impingement syndrome, calcifying tendinitis of the rotator cuff, as well as adhesive capsulitis (frozen shoulder) – comprehensively balancing rehabilitative treatment with surgical intervention.

We also address other shoulder pathologies, including injuries and fractures, by individualising the treatment process, including implant selection, as well as post-operative rehabilitation – facilitating a quicker return to full functionality.
Rotator cuff injuries
The issue concerns the muscles responsible for shoulder joint movement and typically manifests as pain and limited abduction of the shoulder: difficulties with combing hair or fastening a bra. Treatment involves the reconstruction of the damaged tendon attachments of the rotator cuff muscles (supraspinatus tendon (SST), infraspinatus tendon (IST), subscapularis tendon, and teres minor tendon), with the aim of relieving pain and restoring full range of motion.
In cases of permanent muscle damage, we offer replacement treatment options, such as:
muscle transfers
arthroscopic superior capsular reconstruction (SCR), subacromial space implants – balloons
reverse arthroplasty (prosthesis)
Pathologies of the long head of the biceps tendon (LHB) and the glenoid labrum (SLAP)
Damage to the LHB attachment usually pertains to sports involving throwing, tennis, or climbing. It is associated with chronic intra-articular pain as well as a sensation of snapping and concurrent limb weakness. Treatment involves suturing the acetabular labrum, relocating the LHB attachment, or its complete release
Primary or secondary degenerative changes of the joint surfaces
The shoulder, being a suspended joint, is much less prone to primary degenerative disease, although we frequently encounter extensive cartilage damage secondary to a previous trauma
We offer a complete range of complementary treatments to address cartilage loss or, in cases of its permanent damage, replacement with artificial components:
hemiarthroplasty/anatomical arthroplasty
reverse arthroplasty – in cases of rotator cuff insufficiency